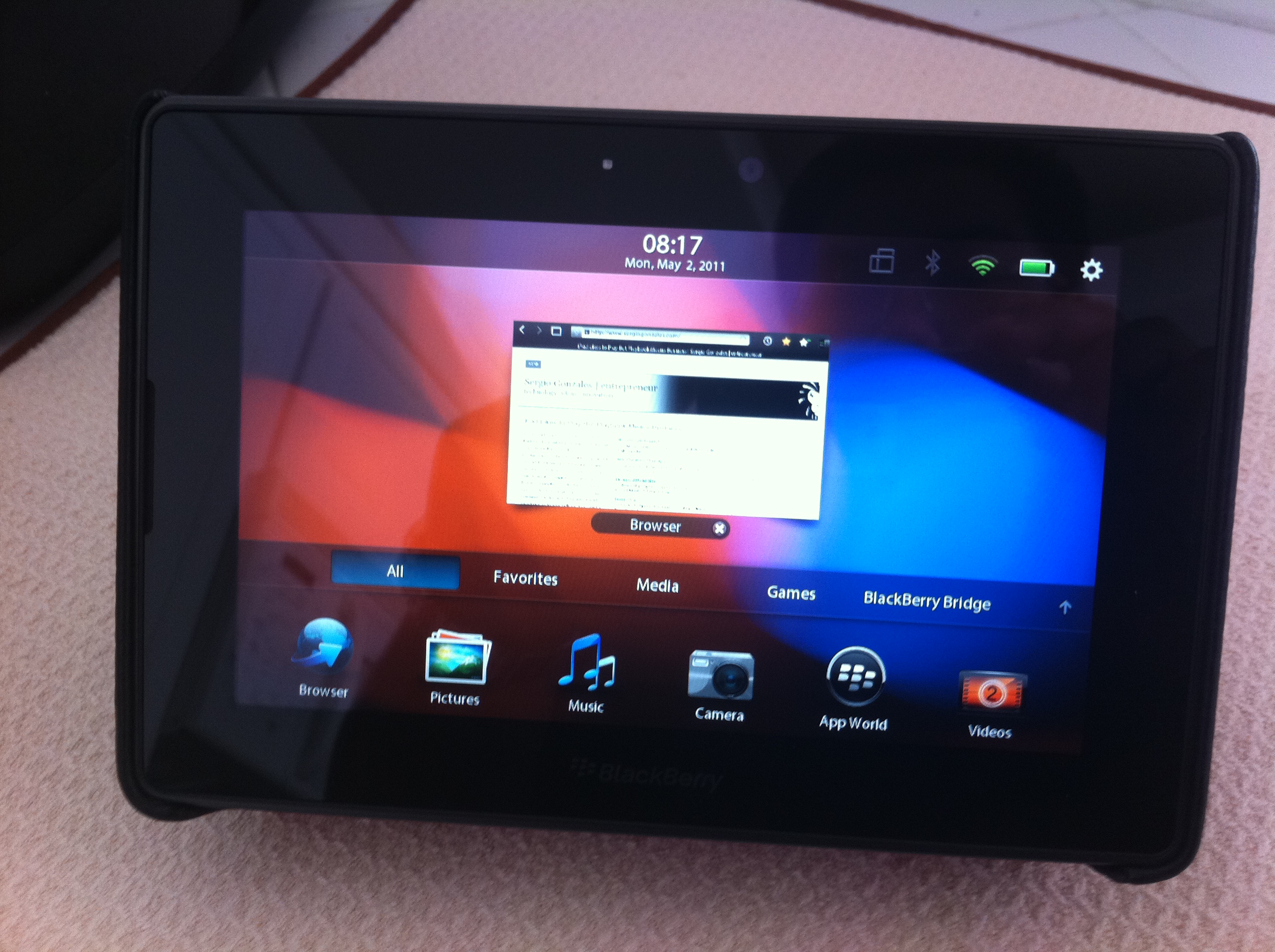 As I've said many times before, I love my iPad and it's great as a consumer device. As much as we like to mock early proclamations of the iPad being magical, put an iPad in the hands of a six-year old and few words can truly capture that experience than to say it is "magical." The iPad is intuitive, engaging, and invites the user to touch it. Within a few gestures a child has mastered the device and parents are left awestruck as to how "brilliant" their child is. Sorry, folks, that's just kids being kids and speaks more about the brilliant design and marketing teams at Apple than your kid being a savant.
That being said, I doubt the iPad will ever become a replacement device for me at work. Putting the security flaws aside for a moment, there are several major gaps that keep the iPad from being the only device in my bag.
Native sharing of files between devices.
Flash.
True multi-tasking.
Smaller form-factor.
I'll explore these topics further in my next article: 5 Things My Playbook Can Do That My iPad Can't. For the Apple fanboys out there who are lining up to jump all over me, that's great if you've found Nirvana with the iPad. Bully for you. I'm saying it won't work for me in my business bag and I suspect, a few others.
Yes, I carry an iPhone. Dammit if I can resist the juggernaut that is the Apple App Store. I'm there because the Developers are. If those Developers ever went somewhere else, that's where I'd be. Keep that in mind, Developers. You hold the power, not Apple. Have we learned nothing from the Music Industry? I read a recent stat somewhere that a Developer might–might–make $10,000 a year on Apple Store. You can quickly figure this out just doing the math. Apple proudly trumpeted recently they've paid more than $1B out to Developers. With over 200,000 apps that means an average of $5K. Even if you say half the apps are free, that leaves you with $10K. You know your time is worth way more than that, right?
But I also carry the 'Berry. For all my colleagues that pooh pooh my choice to carry both devices, spend your days hopping between Developer events, texting, tweeting, and checking emails and when your iPhone has died after 2 hours my Blackberry will race on like a champ. What good is that famed Retina Display if you have to keep it on half power (and it will still die before my Bold)? Don't even get me started on the left-handed grip of death issue.
For business messaging there is still no better solution than Blackberry. Period. No qualifiers. End of discussion. So imagine my high hopes for RIM's Playbook. Before you criticize the Playbook for its shortcomings, consider a few things:
Playbook was always conceived as a companion device. It expands its customers capabilities without sacrificing security. Since IT departments the world over–government and military included–have blessed the Blackberry and have long experience with the device, it will be a little while before they will gain that sort of confidence with RIM's new QNX OS. And I do hope they get there. But for now, bridging email from the Playbook to your Blackberry works fantastically and keeps the InfoSec guys happy. That's why there's no native email client.
I do think that RIM will quickly reconsider their choice for not having an email client. Having a bunch of web shortcuts for GMail, Yahoo Mail, and Hotmail on your Playbook desktop is weak sauce. Users will quickly demand it and you could easily provide both options (client for non-work-secured emails, bridge for work-restricted access).
Ask most security-sensitive employers about their use of iOS devices in their workplace and either they are strictly verboten or are crippled to the point that it is essentially useless.
This is just the first generation of the Playbook. True, on the one hand I would think that if your competitor has a 2-gen lead on you, you would at least launch with parity, but I'm willing to forgive a bit. The Playbook screen orientation detection is much slower than recent versions of iOS, but I contend not visibly noticeable from the original iOS implementation. The same holds true for some of the swipe responsiveness on the Playbook. On this one, I will fault RIM a bit. Come on, guys, you can do better than this.
Playbook ain't for you. For now, the bleeding edge adopters will put it through its paces. We'll eagerly await each firmware update and applaud each improvement. We'll convince our colleagues (and IT departments) why Playbook will be the way to go. All RIM has to do is deliver.
So word to the wise, RIM, hang in there. Remember, you aren't competing with Apple. You're trying to make the best product that remains true to your core value proposition. You're trying to respond to those who already love the Blackberry and remain loyal (but who will jump ship to iPad if you don't deliver). Blackberry's still outnumber iPhone devices. Don't bet so big on this first launch. You've got a few iterations to get through before we can bring the others along. You'll make up for it when the USPS outfits every mail carrier with one of your Playbooks or when you sign your Kaiser Permanente deal so all their doctors can slip one into their lab pocket (which you can't do with the iPad).
I've got a few more articles to write to share my evolving thoughts about the Playbook. For now, I will say that it isn't ready for the masses. For the technophiles looking for a new toy. It is worth a look. Start with the 16GB and keep your money for the next version. Especially for those of us who lament Samsung's discontinuation of the 7″ Tab (why, Samsung, why?). I remain as optimistic now, having used the Playbook for over a week, as I was when it was first announced. Keeping my faith and earning that trust will really depend on RIM's ability to deliver on apps. You live and die by apps, Playbook. Opening up to Android apps was critically smart. Failing to port every Blackberry app to Playbook at launch was not. Beyond improving responsiveness, beyond improving the hardware, you will be judged by apps. Hurry.